59 (Registered)

(0 Review)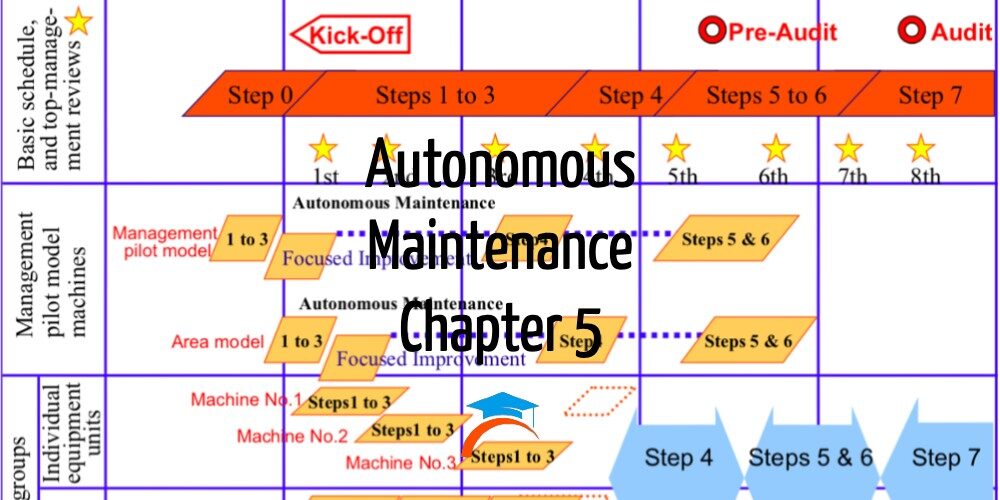 Chapter 5 of TPM Instructor Course.
Autonomous Maintenance (AM) aims to create a scenario where all operators look after their own equipment, carrying out routine checks, oiling and greasing, replacing parts, doing simple repairs, spotting problems at an early stage, checking precision and so on.
This chapter will describe TPM methodology and activities of AM pillar as well as the seven steps to AM and how they work:
"Correction is perfection" (reversing deterioration and making improvements brings good results)
"Perfection is satisfaction" (getting good results gives a feeling of accomplishment)
"Satisfaction is further action" (a feeling of accomplishment makes people want to achieve even more).
Next chapter – Planned (Effective) Maintenance




Course Content
Total learning:

33 lessons
Time:

10 weeks
Autonomous Maintenance: the Basic Approach

0/4

What is Autonomous Maintenance?

The Basic Precepts of Autonomous Maintenance

The Roles of Production and Maintenance in Autonomous Maintenance

The Seven Autonomous Maintenance Steps

Step-by-Step Development

0/11

Step 1: Initial Cleaning (Checking through Cleaning)

Step 2: Tackling Contamination Sources and Hard-to-Access Areas

Step 3: Provisional Autonomous Maintenance Standards

Step 4: General Inspection

Step 5: Autonomous Checking

Development of standards during Steps 4-5

Step 7: Full Self-Management

Specific schemes for developing Autonomous Maintenance

Different approaches for different equipment configurations

Rollout Plans

0/2

Autonomous Maintenance rollout plans

The Keys to a Successful Rollout

0/14

Ensure that everyone is fully trained in TPM implementation, and that the different departments are pulling together

Organize teams at every level

Autonomous Maintenance needs hands-on management

Demonstrate everything on a pilot machine first

Take it one step at a time

Let people experience success

Include Focused Improvements in team activities

Let people make their own rules

Handle requests for maintenance work promptly

Use activity boards effectively

Reviewing the Autonomous Maintenance Steps

0/2

Autonomous Maintenance reviews
Instructor